integrated marketing
WEBSITES, SEO/SEM, EMAIL MARKETING, BLOGGING, SOCIAL MEDIA, PRINT COLLATERAL, POSTCARDS, BUSINESS CARDS, ADS
The best marketing practices involve an integrated approach, blending informative, traditional print advertising with attention-grabbing social media posts and, of course, a reliable, stunning website to back it all up. At Dovetail, our team has the skill, resources, and experience to drive your business and develop your brand.
As a small business ourselves, we get it. You may not have the resources to hire a full-time marketing representative in your organization, but you've definitely got the need for one. Dovetail is here to serve as a complete resource for your business.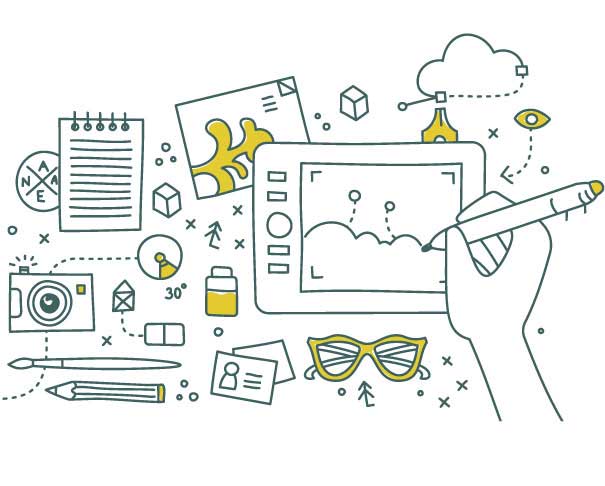 Content-Driven Websites
That Make a Real Impact on Your Business
Putting all of the pieces together to tell your story is more than just cutting and pasting to a web page. It's about knowing how to utilize the right layouts to enhance your data, where to add photos or graphics to complete the story, or when your data should be converted to a table or grid. These choices have an impact on how a site visitor comprehends your information, as well as how Google and other search engines index the content.

Blogs
Share your news, opinions, studies; comment on industry trends, stories
Calendar
Feature events by calendar or list view, color by category, link to details
Case Studies
Document the details of projects, cases, testimonials with photos, videos, pdfs
Locations / Maps
Display offices, projects, territories, personnel on a Google or custom map
News / Press
Post stories covering company events, customer milestones, industry topics
Online Forms
Create custom forms for sending emails, employment, event sign-up
Photo Galleries / Portfolios
Showcase photos of products, services, projects, employees, customers
Resource Libraries
Curate a collection of resources - documents, links, videos, forms
Service Lists
Introduce your company's services with detailed descriptions, photos
Team Bios
List your employees, photos, credentials, contact information
Videos
Integrate video of products, services, industry experts from YouTube, Vimeo
3rd-Party Integration
Integrate with other sites for event registration, travel booking, document sharing
Content Management System
Manage content, pages, menus, email newsletters, contacts
Customer Relationship Management
Track every customer interaction - forms, orders, comments, newsletter clicks
Customer Portals
Provide a password-protected area to access proprietary or confidential info
Custom Programming
Can't find exactly what you're looking for? Custom programming might be the solution
Intranets
Organize internal information, pdfs, forms, links, calendars with employees
Responsive Framework
Scale your site for the smallest of phones to wide-screen monitors
Social Media
Display social media content; integrate social media sharing buttons
SSL Secured
Use SSL to create an encrypted connection to protect website content
Online Store
Pay for events, classes, sponsorships, subscriptions; sell products, services
Structured Website Content

Blogs

Share your news, opinions, studies; comment on industry trends, stories

Calendar

Feature events by calendar or list view, color by category, link to details

Case Studies

Document the details of projects, cases, testimonials with photos, videos, pdfs

Locations / Maps

Display offices, projects, territories, personnel on a Google or custom map

News / Press

Post stories covering company events, customer milestones, industry topics

Online Forms

Create custom forms for sending emails, employment, event sign-up

Photo Galleries / Portfolios

Showcase photos of products, services, projects, employees, customers

Resource Libraries

Curate a collection of resources - documents, links, videos, forms

Service Lists

Introduce your company's services with detailed descriptions, photos

Team Bios

List your employees, photos, credentials, contact information

Videos

Integrate video of products, services, industry experts from YouTube, Vimeo

Specialized Content, Integrations, Extensions, Features

3rd-Party Integration

Integrate with other sites for event registration, travel booking, document sharing

Content Management System

Manage content, pages, menus, email newsletters, contacts

Customer Relationship Management

Track every customer interaction - forms, orders, comments, newsletter clicks

Customer Portals

Provide a password-protected area to access proprietary or confidential info

Custom Programming

Can't find exactly what you're looking for? Custom programming might be the solution

Intranets

Organize internal information, pdfs, forms, links, calendars with employees

Responsive Framework

Scale your site for the smallest of phones to wide-screen monitors

Social Media

Display social media content; integrate social media sharing buttons

SSL Secured

Use SSL to create an encrypted connection to protect website content

Online Store

Pay for events, classes, sponsorships, subscriptions; sell products, services